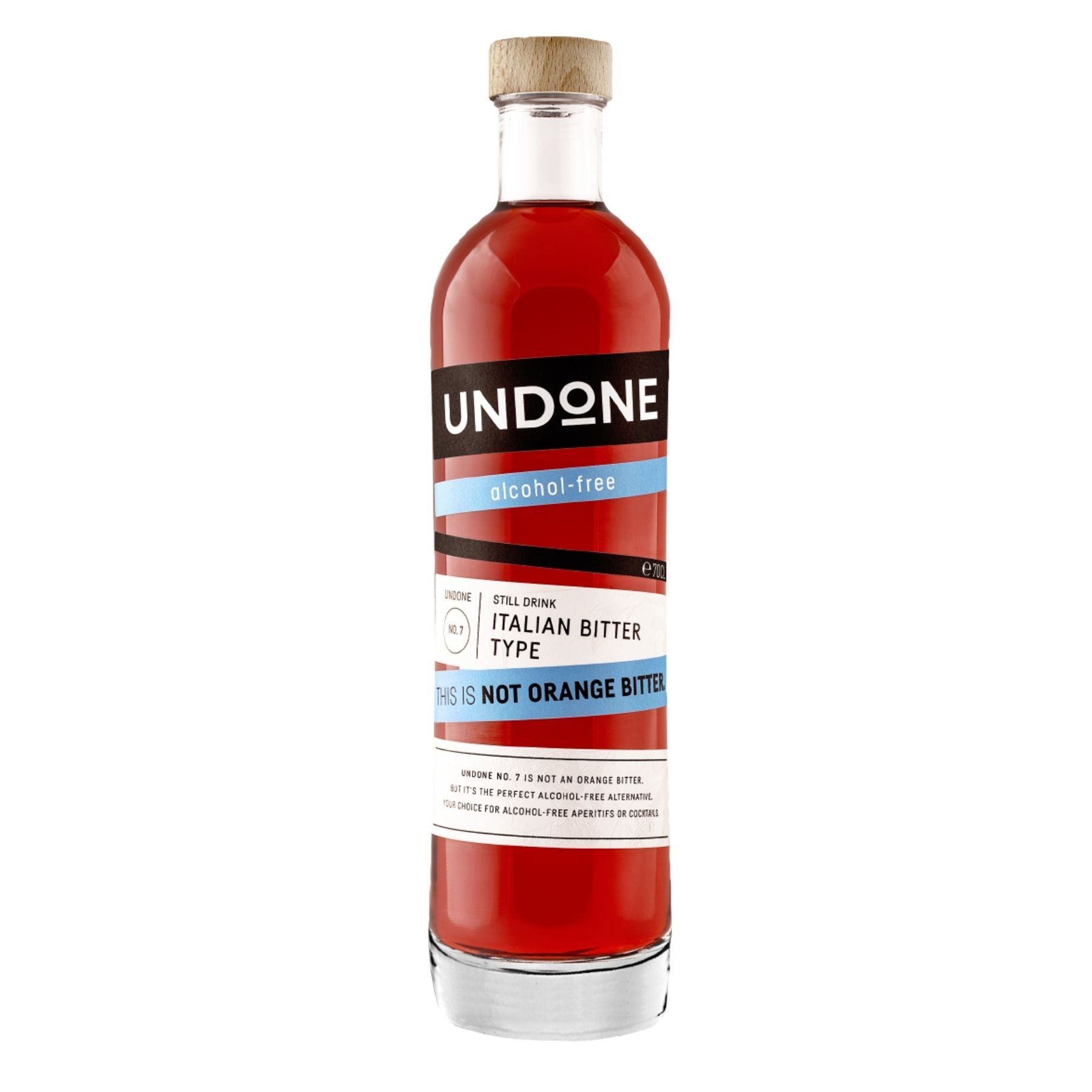 Undone No. 7 - This is not Orange Bitter | Non-Alcoholic Italian Bitter
750mL - 0.3% ABV - Gluten Free - Vegan - Natural Flavors
At Dry Variety we love a good spritz!  In fact they might just be our kryptonite, so when we first tried this delicious non-alcoholic option we were ecstatic to be able to overindulge with no regret.
Undone No. 7 is alternative to an Italian orange aperitif.  Boasts aromas of typical Italian bitter herbs and warm orange notes.  The taste is much like the real deal too: bitter sweet blood orange, thyme, grapefruit, clove and bitter notes all make for a delicious alternative.
Can be enjoyed simply on ice mixed with a low sugar tonic, or prepared as a traditional Spritz: 1 part Italian aperitif type bitter, 2 parts-non alcoholic sparkling wine, a splash of tonic and don't forget that slice of juicy orange!
Pickup currently unavailable at 777 Hickoryridge Common
Undone No. 7 - This is not Orange Bitter | Non-Alcoholic Italian Bitter
777 Hickoryridge Common
Pickup currently unavailable
777 Hickoryridge Common
London ON N6G 5B3
Canada
+15194957610
Nutritional Values: Average content per 100ml/3.4oz
Alcohol Content: <0.3%
Energy: 60 calories
Protein: 0 g
Sodium: 0g
Fat: 0 g
Carbohydrate: 14 g
– of which sugars: 14 g

Ingredients:
Water, invert sugar syrup, acid citric acid, natural flavor, orange juice concentrate, coloring food (concentrate of sweet potato and carrot), bitter herb essence, coloring food (concentrate of apple, safflower and lemon), caramel sugar, preservative potassium sorbate, flavor quinine
Like classic Italian Amaro, UNDONE No. 7 can also be enjoyed simply chilled or on ice.

As a long drink UNDONE No. 7 works excellently in combination with soda water. Or you can simply fill your glass with UNDONE No. 7 on ice with freshly squeezed orange juice.

On top of that UNDONE No. 7 excels in classic aperitif cocktails. For example in the popular alcohol-free Negroni with UNDONE No. 2 and UNDONE No. 8 or as alcohol-free Americano cocktail mixed with UNDONE No. 8 and soda water.


In the nose UNDONE NO. 7 offers earthy notes combined with the typical sweetish bitterness of Italian Amaros.

On the palate you can taste ripe oranges and a spicy-bitter herb note, which dominates the bitter aftertaste.